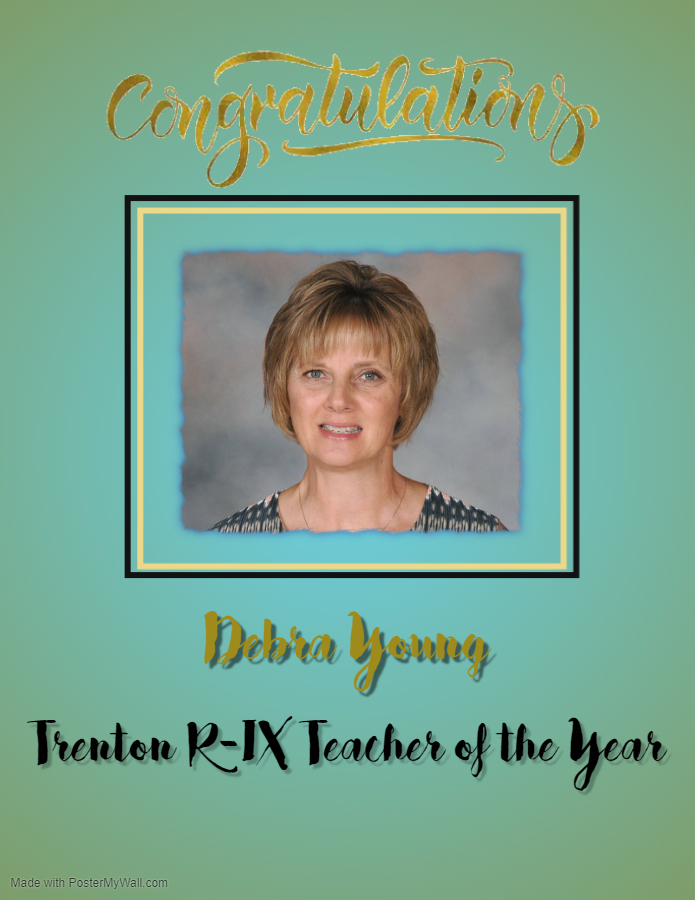 Debra Young
Tiffany Otto
Tuesday, May 19, 2020
It's with great pleasure and honor to announce the 2019-20 Trenton R-IX Teacher of the Year as Mrs. Debra Young. Mrs. Young completed her undergraduate degree from Graceland University in 1998 and her Masters of Science degree from Northwest Missouri State University in 2001. As a Kindergarten teacher for S.M. Rissler Elementary for the past 18 years, Mrs. Young has served as a mentor teacher, Professional Learning Community and Positive Behavior Support team member, and other various leadership roles with the district.
Mrs. Young will move on to compete as a Regional Teacher of the Year and State Teacher of the Year for Missouri. In her regional application, Mrs. Young states
"I find the most satisfaction in the relationships that have been built with students and families over the years. A wise saying in education is students don't care what you know until they know you care. The apostle Paul said in 1 Corinthians 13 - while we might do lots of good things, if we have not love then we are just clanging cymbals. As an educator, I pray that I will always remember relationships are the prerequisite skills to a successful year. "
Congratulations Mrs. Young for your leadership, dedication and positive impact on the students and families of Trenton R-IX.